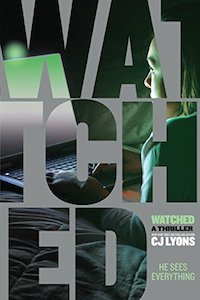 My new YA thriller, Watched, deals with topics we usually relegate to the shadows, try our best to ignore, and pretend don't exist.
In my life as a pediatrician, I became aware of the dark side of technology more than a decade ago when I encountered my first patient who had been coerced into a sexual relationship via texting.
As a writer, I've interviewed numerous law enforcement professionals at the local, state and federal levels, and read police files with real-life transcripts that show how easy it is to "groom" victims, persuading them to do the unthinkable: give out personal information, leave their homes to meet total strangers, take and share sexually explicit photos of themselves, even convince them to manipulate other children into becoming victims as well — a sick, twisted way for predators to "abuse by proxy."
These stories, all inspired by real events, informed the plots of my thrillers. But it wasn't until my niece shared a link to a video that I felt the true heartbreak these "cappers" — cyberpredators who use photos and videos to blackmail their victims — could wreak on an innocent child.
It was Amanda Todd's suicide video. After I watched it, I realized that writing about these crimes in my adult thrillers wasn't enough. I needed to reach teens with a story that could inspire and empower them to stand up to these predators. And so Watched was born.
As I did more intensive research for Watched I discovered many disturbing facts, including:*There are easily obtainable programs that give control of your computer (and in some cases your phones) to so-called Ratters, enabling them to search for incriminating photos on your devices, turn on your camera without your knowledge and record you (think about that the next time you go to sleep with your cell phone propped on the nightstand) and steal your confidential information.
*Cappers have their own virtual communities where they share the images they steal, including the explicit material they extort from their victims. As part of these communities, they vote on the "best" and "worst," competing with each other to collect the most "slaves."
*It is not uncommon for "sextortion" to escalate to real-world sexual assault — with or without the cyberpredator participating. These criminals often get gratification from others manipulating their victims too, as illustrated in this recent article about a capper from Georgia.
We lose a piece of our humanity every time someone like Amanda Todd takes her own life. We lose the future she could have had, the world-changing ideas she might have come up with, the smiles and laughter and hugs she would have shared.
What happens to my characters Jesse and Miranda in Watched, what happened to Amanda Todd, these things could happen in any country. They could happen in your city. They could be happening right now on the street where you live — to someone you care about.
My hope is that readers will find Watched empowering. Because we don't have to be victims. We can stop predators with the one weapon they have no power over: the truth.
Truth changes everything.Thanks for reading.
(NOTE: The pediatrician in me wants to remind everyone that Watched is for mature Young Adult audiences, ages 14 and up. Even better, read it yourself then share and discuss it with your kids!)
Where to find help: