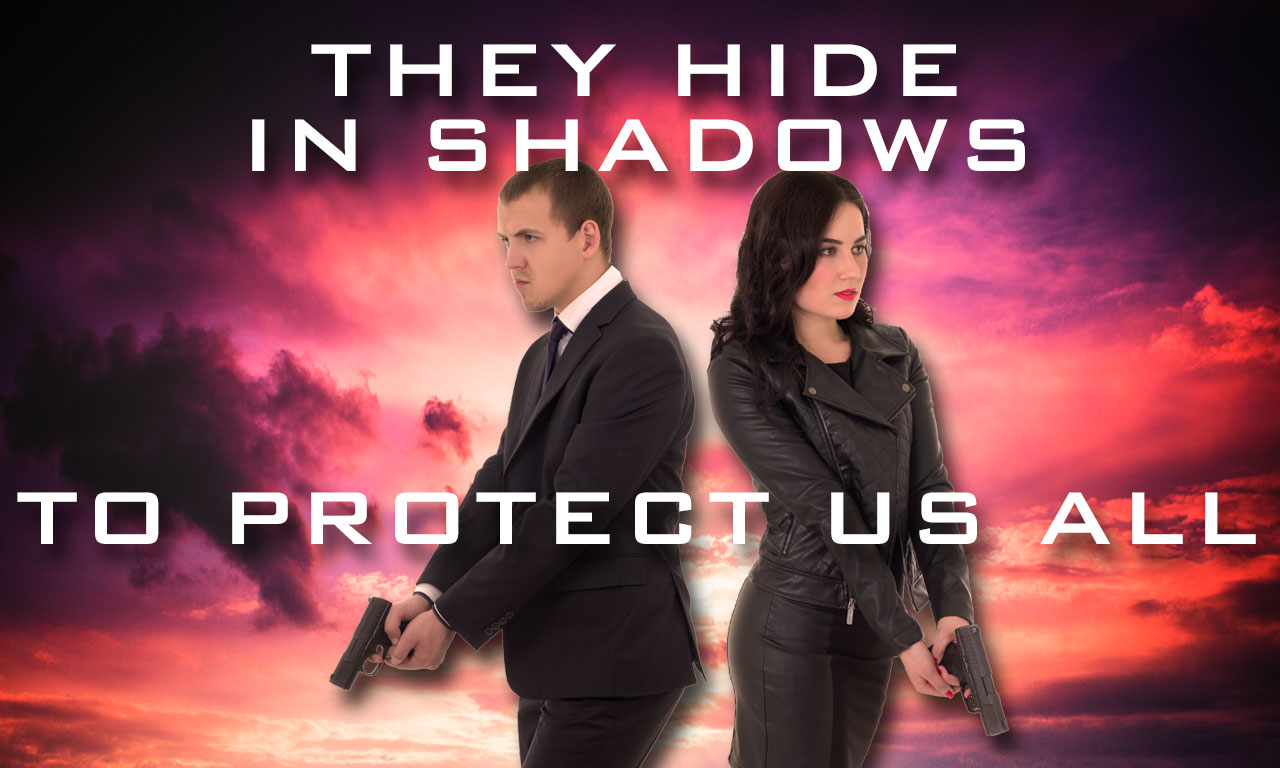 "Breathtakingly fast-paced."~Publishers Weekly

2013-02-17T11:52:08+00:00

https://cjlyons.net/testimonials/3357/

"Everything a great thriller should be." ~Lee Child

2013-02-16T22:37:25+00:00

https://cjlyons.net/testimonials/3322/

"I love how the characters come alive on every page." ~Jeffery Deaver

2013-02-16T22:42:24+00:00

https://cjlyons.net/testimonials/3323/

"The perfect blend of romance and suspense." ~Sandra Brown

2013-02-17T11:56:01+00:00

https://cjlyons.net/testimonials/3359/

"Lyons delves deep into the human soul." ~RT Book Reviews

2013-02-17T12:02:41+00:00

https://cjlyons.net/testimonials/3365/

"Riveting." ~Publishers Weekly

2013-02-17T12:24:12+00:00

https://cjlyons.net/testimonials/3366/

"A pulse-pounding adrenaline rush." ~Lisa Gardner

2013-02-16T16:36:58+00:00

https://cjlyons.net/testimonials/3231/
Join CJ as she starts a sexy, fun-filled, adrenalin rush of a new series: Shadow Ops.
Following a group of covert operatives, men and women who risk their lives to protect our country–but are they ready to risk their hearts?
CHASING SHADOWS (Shadow Ops Book #1):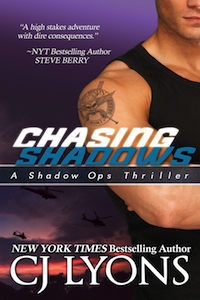 Going undercover, playing the part of a disgraced former Marine, is easy for Chase Westin–until a Christmas Eve mission takes him back to his hometown and face to face with his estranged brother.
When KC, an undercover FBI agent, flies into Chase's life with her Doc Martens, purple, punk-rock hair, and Hollywood-hype leather and chains, Chase realizes that falling in love is more dangerous than catching bullets.
Buy your copy of CHASING SHADOWS in print, ebook, or audio:
LOST IN SHADOWS (Shadow Ops Book #2):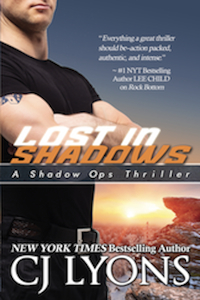 A West Virginia mountain, the middle of a blizzard, killers on his trail…no place for a city boy like Lucky Cavanaugh, an ATF explosives specialist.
Out-manned, out-gunned and shot, he takes Forest Service Wildlife Biologist Vinnie Ryan hostage until he convinces her that he's one of the good guys.
Vinnie heals not only his injuries but also his broken heart. But when they uncover a terrorist plot, Lucky is forced to choose between duty and passion, risking the life of the woman he loves in order to save the lives of thousands.
Grab your copy of LOST IN SHADOWS in print, ebook, or audiobook today:
EDGE OF SHADOWS: The Shadow Ops Finale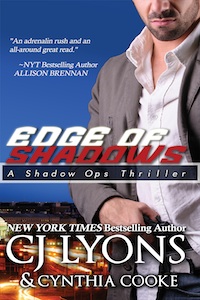 Rose Prospero has already faced her own worst fear: five years ago she was captured and tortured when the CIA abandoned her behind enemy lines. Since then, she's focused her energies on protecting her Team and her country from monsters like the man who captured her. The Team and the job come first, last, always for Rose, leaving no room for love.
Former Delta, Billy "Edge" Price is Rose's second-in-command and her best friend. Suave, skilled, and a smooth operator, Billy loves his job—and his boss. He can't have both, so he's settled for using his position to stay close to Rose.
As they face enemies from without and within, on the run from anyone who could help them, Rose and Billy learn each other's deepest secrets, face their greatest fears, and sacrifice everything for Team, Country…and Love.
Grab your copy of EDGE OF SHADOWS in ebook, trade paperback, and audio format now!

---
The CJ Lyons' Shadow Ops World on Kindle:
New to Kindle Worlds? You can learn more HERE
It's a way for writers to set stories in my Shadow Ops world (using my characters or by creating their own to join the Special Threats Response Team) and offer it for sale to readers who enjoyed my Shadow Ops novels.
(Note: I am not working with any of these authors directly, so if you're a reader with a question about one of their stories, please contact them.)
These stories are as new to me as they are to you and, as with any fan fiction, they may take the characters and plot lines in unexpected directions. That's the fun of it, playing in a world and exploring all the options.
I have asked any authors writing in my Shadow Ops world to clearly label their stories as far as level of sexuality and type of story so hopefully there will be no surprises for readers, other than a new story to enjoy!
If you are a writer and would like to set your own story in the Shadow Ops world, click HERE for more information on how to submit your story to Kindle Worlds. This is the only authorized publication portal for my Shadow Ops world.