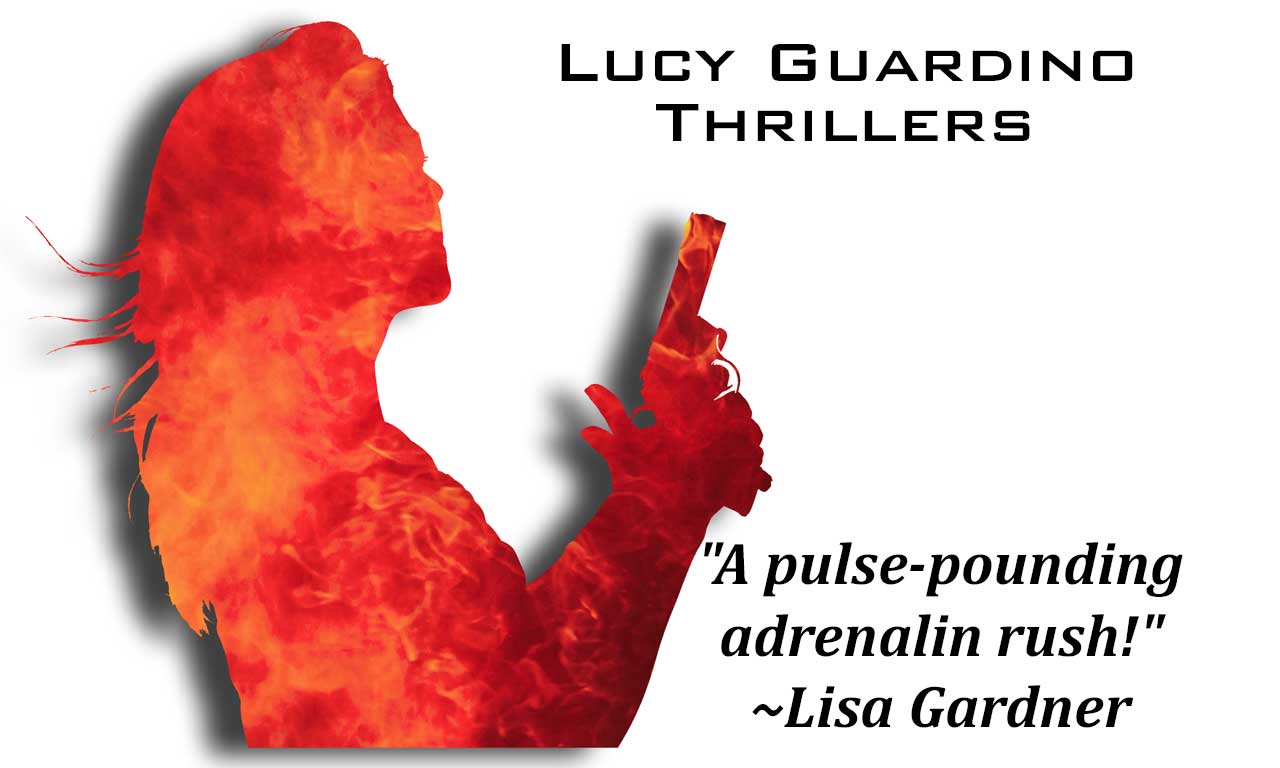 "Breathtakingly fast-paced."~Publishers Weekly

2013-02-17T11:52:08+00:00

http://cjlyons.net/testimonials/3357/

"Everything a great thriller should be." ~Lee Child

2013-02-16T22:37:25+00:00

http://cjlyons.net/testimonials/3322/

"I love how the characters come alive on every page." ~Jeffery Deaver

2013-02-16T22:42:24+00:00

http://cjlyons.net/testimonials/3323/

"The perfect blend of romance and suspense." ~Sandra Brown

2013-02-17T11:56:01+00:00

http://cjlyons.net/testimonials/3359/

"Lyons delves deep into the human soul." ~RT Book Reviews

2013-02-17T12:02:41+00:00

http://cjlyons.net/testimonials/3365/

"Riveting." ~Publishers Weekly

2013-02-17T12:24:12+00:00

http://cjlyons.net/testimonials/3366/

"A pulse-pounding adrenaline rush." ~Lisa Gardner

2013-02-16T16:36:58+00:00

http://cjlyons.net/testimonials/3231/
NEW!
After leaving the FBI, life should be easy, right? Wrong—not if you're Lucy Guardino.
Check out Lucy's NEW adventures at Beacon Falls:
LAST LIGHT: Beacon Falls Mysteries, Book #1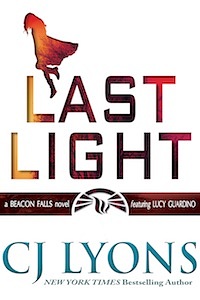 Lucy has always seen herself as a normal Pittsburgh soccer mom who happened to have a job chasing the worst of the worst. But after a violent predator targets her family and she's injured, Lucy sacrifices her career with the FBI in order to keep her family safe.
What is she now that she's no longer a FBI Special Agent? she wonders as she begins her new job with the Beacon Group, a private consulting firm that specializes in cold cases and bringing justice to forgotten victims. Lucy fears she's traded being a kick-ass law enforcement officer for being a civilian mother hen shepherding a team of amateurs.
Her fears appear justified when she's partnered with TK O'Connor, a former Marine MP struggling with her transition to life back home, and sent to rural Texas to investigate a case that's more than cold, it's already been closed with the killers behind bars for the past twenty-nine years.
But…who really killed Lily Martin, her infant daughter, and husband? Why was an entire family targeted for annihilation?
What price will Lucy pay when she fights to expose a truth people will kill to keep buried?
---
DEVIL SMOKE, Beacon Falls Mysteries Book #2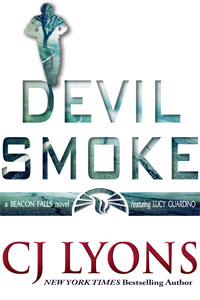 "Everything a great thriller should be—action packed, authentic, and intense." ~#1 New York Times bestselling author Lee Child
After leaving the FBI, Lucy Guardino still feels like the new kid on the block with her team at Beacon Falls. But then a new case involving a young woman with amnesia searching for her lost memories shines a spotlight on a past case involving one of Lucy's team members.
Dr. Tommy Worth left his job as a pediatrician ER physician to join the Beacon Group after his wife went missing, leaving him to raise their five-year-old daughter alone. Now the press is hounding him on the anniversary of his wife's disappearance. Distracting himself with the newest case at Beacon Falls fails miserably after the woman he is trying to help becomes the target of an anonymous stalker.
Because, when you can't even remember who you are, how do you know who to trust? Or who to run from?
DEVIL SMOKE is the eighth Lucy Guardino novel, but they can be read out of order. If you enjoy captivating suspense, intelligent storytelling, strong and vulnerable characters, and a freight-train pace, then you'll love this adrenaline rush of a heart-pounding thriller from "a master of the genre."
---
OPEN GRAVE, Beacon Falls Mysteries Book #3 releases 2/7/2017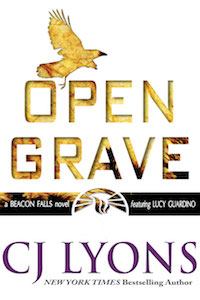 A secret buried in an open grave returns to haunt a small town…
When divers discover an antique car with a skeleton inside, the Beacon Group dispatches TK O'Connor to lead the investigation into the sixty-year-old cold case.
It's TK's first chance at lead investigator and the former Marine is determined not to let her team down. But, almost as soon as she arrives in the downtrodden rustbelt city, her challenges mount.
First, there's the issue of identifying the man inside the car. Who was he and why did he seemingly drive off a cliff into a quarry, leaving no trace of his life behind?
Then, there's the brewing racial tensions in the city. A white police officer is on trial for shooting a black man and the verdict is due any minute. When a second killing occurs, TK suddenly finds herself at the center of a new investigation while the town literally explodes around her.
As protesters storm the once peaceful town, it's up to TK and her boss, Lucy Guardino, to untangle the truth, both past and present. But is the truth powerful enough to stop the violence before any one else is killed?
Want More? Check out the first six Lucy FBI Thrillers!
WARNING: the Lucy Guardino FBI Thrillers are NOT for the faint of heart! They depict adult situations, realistic violence with consequences, and delve deep into the darkness of the human heart and mind.
---
SNAKE SKIN: Lucy Guardino FBI Thrillers, Book #1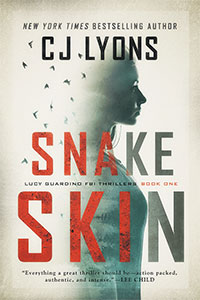 5.0 out of 5 stars Great FBI Story: "Very well researched with most details spot on. It is a compelling story. The characters were real, to the point of reminding me of an agent, who, was every bit as dedicated, smart, and fearless as Lucy Guardino. I highly recommend it." ~Mark B. Lewis, Former FBI Special Agent
When it comes to "breathtakingly fast-paced thrillers" (Publishers Weekly), New York Times Bestseller CJ Lyons is a "master of the genre." (Pittsburgh Magazine).
#1 New York Times bestselling author Lee Child has called CJ's work "Everything a great thriller should be--action packed, authentic, and intense."
Just your average Pittsburgh soccer mom, baking brownies and carrying a loaded forty-caliber Glock...
Lucille Teresa Guardino. A woman of many identities. Lucille to her doting mother, Lulu to her devoted husband, Mom to her pre-teen daughter, Lucy to her friends, LT to her co-workers, and Supervisory Special Agent Guardino to the criminals she captures for the FBI's Sexual Assault Felony Enforcement squad.
A loving mom and wife, dutiful daughter, consummate professional, and kick-ass federal agent, Lucy is living the perfect life.
Until the day she comes up against a predator more vicious and cunning than any she's ever tackled before, one who forces Lucy to choose between the life of the young victim she is fighting to save and her own daughter's....and Lucy's dream life is shattered.
Here's what RT Book Reviews said about SNAKE SKIN: 4 1/2 Stars: Combine Dirty Harry with a loving wife and mother and you might end up with Lucy Guardino. Fans of Lyons' hospital-set series will love the change of setting and thrilling pace. One note: readers with a fear of snakes should pick up this story carefully. Regardless, you won't be able to put this one down.
Buy your copy of SNAKE SKIN today in print, ebook, or audiobook:






---
BLOOD STAINED: Lucy Guardino FBI Thrillers, Book #2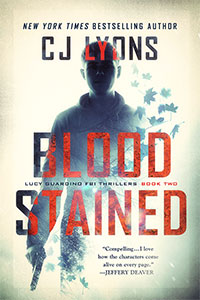 Readers asked for "More Lucy, Please!"
Now Lucy's back and she's facing the fight of her life:
Just your average Pittsburgh soccer mom, baking brownies and carrying a loaded forty-caliber Glock...
Until recently Supervisory Special Agent Lucy Guardino was a shining star in the FBI's roster. But after killing a man and disobeying orders, Lucy's been sidelined, chained to her desk. When a mysterious letter arrives hinting that, thanks to Lucy, the wrong man was blamed for a string of serial rapes, kidnappings, and killings four years ago, Lucy jumps at the chance to re-open the case--despite orders to leave well enough alone.
Her unofficial investigation takes her back to the small town that thrust her into the spotlight four years ago when she saved the killer's last victims--before the killer took his own life and the life of one final victim, a mother who left a ten year old son and loving husband behind.
What Lucy doesn't know is that what happened four years ago was all a lie, fueled by sacrifice and betrayal, designed to shield the real killer. With the lives of her family, a group of innocent children, and the future of one desperate boy at risk, Lucy races to stop an innocent from killing and a killer from butchering more innocents.
Buy your copy of BLOOD STAINED in print, ebook, or audiobook:
---
KILL ZONE: Lucy Guardino FBI Thrillers, Book #3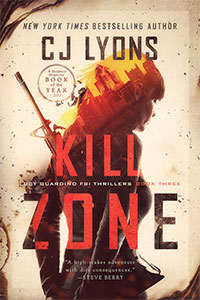 Breaking News: KILL ZONE has been selected as one of Suspense Magazine's Best of 2012 Books!
Lucy's back! In a story ripped from the headlines, the violence is the worst she's ever seen, the stakes are higher than ever, and then...things get personal.
It's a vicious, horrific crime: the brutal killing of a teenaged girl. When Pittsburgh detectives call FBI Supervisory Special Agent Lucy Guardino to the scene, their focus is on who and why?
Was it the girl's Afghan father striving to regain his honor after she became too Westernized? Her Jewish boyfriend? Someone from Afghanistan settling an old grudge? Or one of the many drug cartels the father helped the DEA bring down seeking revenge?
Former Marine Sergeant Andre Stone has been home a month, but he has yet to leave the safe haven of his grandmother's house--other than to go to his appointments at the VA's burn clinic. Andre's disfiguring physical scars are the least of his worries. The emotional wounds of seeing his men massacred in a DEA raid gone horribly wrong have left him a walking dead man, numb to anything. All he can think about is revenge. On Rashid Raziq, the man behind the raid. When Andre is offered a chance at vengeance, the only question left is: How far will he go to get it?
The answers seem clear when Pittsburgh becomes engulfed in flames as a violent narcoterrorist turns the city into a kill zone...But in the dark of night, surrounded by men intent on destroying the truth, Lucy and Andre both learn that secrets hide in shadows.
Think you have what it takes to handle Lucy? Order KILL ZONE today in print, ebook, or audiobook:






---
AFTER SHOCK: A Novella, Lucy Guardino FBI Thrillers #4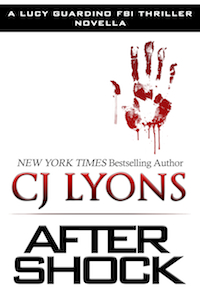 You asked for more Lucy, you got it! Lucy's back in a new high-octane story, AFTER SHOCK:
As head of the FBI's Sexual Assault Felony Enforcement Squad, agent Lucy Guardino has made a name for herself bringing the lowest of lowlifes to justice: rapists, serial killers, pedophiles—she's faced them all down with her signature grit and determination.
Today is different for Lucy. Because the man who has taken her prisoner has promised Lucy three things: that before this day is over, she will be dead; that someone in her family will also die; and that he always wins.
Trapped inside her worst nightmare, Lucy faces a ruthless killer as he plays Russian roulette with the lives of those she loves. Wounded and unarmed, how can Lucy defeat a psychopath who doesn't play by any rules?
AFTER SHOCK is a heart-pounding, lightning-paced thrill ride that will leave readers breathless as they root for the ultimate superheroine next door.
Grab your copy TODAY! Available in print, ebook, and audiobook:


---
HARD FALL: Lucy Guardino FBI Thrillers, Book #5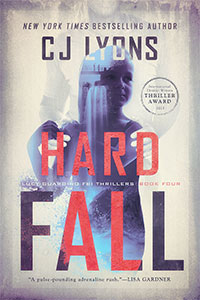 HARD FALL, winner of the International Thriller Writers' Thriller Award!
59 days ago FBI Special Agent Lucy Guardino had a perfect life…and almost lost it all.
There comes a time in every hero's life when they fall harder and farther than ever before and they face a choice that changes everything: to give up or claw their way back again. Lucy thought she'd made her choice two months ago when she sacrificed everything to save her family, but now she has to decide whether or not she can save herself…
When honor, duty, and family collide…who would you save?
Grab your copy now! Coming soon in audiobook.





---
BAD BREAK: Lucy Guardino FBI Thrillers, #6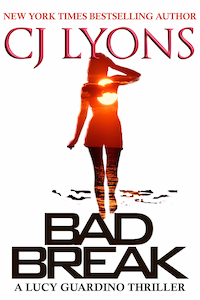 FBI Supervisory Special Agent Lucy Guardino is ready for a well-deserved break from chasing the worst of the worst. She's hunted serial killers, violent child predators, and vicious psychopaths but nothing has prepared her for spring break alone with her teenaged daughter in a secluded beach resort in the Lowcountry of South Carolina.
When Megan befriends a local boy who is accused of a brutal crime, it's up to Lucy to soothe the ruffled egos of the well intentioned but ill equipped local police, prevent Megan from playing amateur sleuth, and track a cunning killer before Megan or her friend become the next victim.