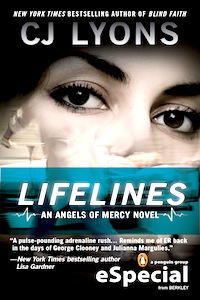 LIFELINES: Angels of Mercy, Book #1
A gripping behind-the-scenes drama of four women who face life and death every day
On her first day at Pittsburgh's Angels of Mercy Medical Center, L.A.-transplant Lydia Fiore, the new ER attending physician, loses a patient: the Chief of Surgery's son. Now, to save her career, Lydia must discover the truth behind her patient's death, even as it leads her into unfamiliar-and risky-territory.
At least she's not alone. There's med student Amanda, a sweet Southern belle with problems of her own; Gina, a resident with a chip on her shoulder; and Nora, the no-nonsense charge nurse with a cool head but a fiery temper. Not to mention the paramedic who'd like to try out his bedside manner on Lydia.
Buy your copy of LIFELINES today in print or ebook: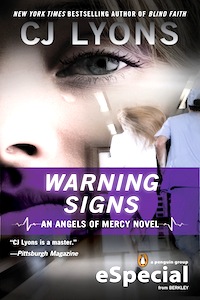 WARNING SIGNS: Angels of Mercy, Book #2
The national bestseller Lifelines felt "like all the best episodes of ER and Grey's Anatomy squeezed into one breathtaking novel" (Hilton Head Monthly). Now CJ Lyons returns to the front lines of the struggle between life and death…
On rotation at Pittsburgh's Angels of Mercy Hospital and struggling to finish medical school, Amanda Mason can't afford to make any mistakes—or to reveal a troubling secret. Mysterious symptoms that defy diagnosis have been affecting her performance, and as she struggles to keep control, the only person who seems to notice is the irritatingly observant and sexy Dr. Lucas Stone.
But when two patients who experienced the same strange symptoms die, and another slips into a coma, Amanda realizes her own clock is ticking. With help from her friends—Gina, a roommate recovering from her own trauma; Lydia, a streetwise ER attending; and Nora, a by-the-book charge nurse—Amanda must solve this medical mystery before she becomes its next victim…
Buy your copy of WARNING SIGNS today in print or ebook: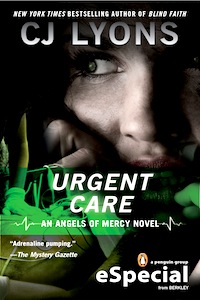 URGENT CARE, Angels of Mercy Book #3
CJ Lyons returns to the front lines of the ER and the lives and loves of four very special women.
Angels of Mercy Hospital charge nurse Nora Halloran has been living with a painful secret for two long years. When a coworker is assaulted and killed, Nora must face her deepest fears and reveal all her secrets to the man she loves to stop the killer from striking again.
Buy your copy of URGENT CARE today in print or ebook: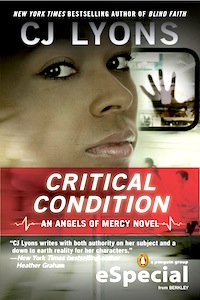 CRITICAL CONDITION: Angels of Mercy, Book #4
In the middle of a New Year's Eve blizzard, the staff and patients of Angels of Mercy Hospital are held hostage by armed gunmen.
Their target is Dr. Gina Freeman, who is holding vigil over her wounded fiancé, Detective Jerry Boyle. Stranded outside the hospital is ER physician Linda Fiore, whose past holds the secret the hitmen are willing to kill for. With the cold-blooded killers in control, no one may live to see the New Year.
Buy your copy of CRITICAL CONDITION today in print or ebook: